natural, organic, chemical free & Canadian made.
Eliminating household chemicals produced not one but two miracles for our family, quite literally.
It sent us on a mission to begin to formulate, source and produce natural, organic, chemical free and Canadian made personal care and home products that are safe enough for our family but made for yours.
Browse our growing selection of haircare, skincare, bath and home products.
Safe products used by chemical free families every day. Your family will love them too or return them for a refund, that is our family belief and backed by our satisfaction guarantee.
It's Finally Here! (Ready to Ship!)
Introducing 100% natural, Health Canada, approved topical pain relief! The ALL NEW Ache & Pain Cool Stick makes long lasting, fast acting relief convient in an easy to apply solid stick! Ideal for all kinds of muscle & joint pain, back ache, arthritis, tension headaches, strains, sprains and more!
Learn More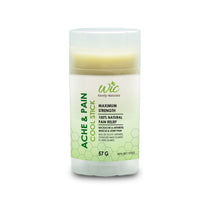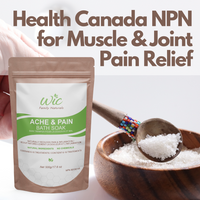 WIC Family Naturals Ache & Pain Bath Soak
"These are the first bath salts that actually did something. These will definitely be a staple in my routine!" - Kim G.
Our Ache & Pain Bath Soak is the only concentrated bath salt formulation we know of with a Health Canada NPN for muscle pain relief and joint pain relief claims.
All of our bath salts use Canadian Glacier mineral salts, rich in magnesium and over 50 other trace minerals. And our concentrated therapeutic grade essential oil blend means an effective treatment starts with just 3 tablespoons (unlike most epsom salt formulations that suggest 1-2 cups.)
Check out the reviews and try for yourself, you won't be disappointed!
Shop Now
Our organic hair, skin and facial care products are gentle, rich, and nourishing.
How about a conditioner that smells delightful but is "so gentle you can use it as hand lotion." (-Miss Anna, Amazon Customer)
Or an organic face wash that "you only need a dime size amount for it to be effective for removing make up and mascara." (-Rhoda F.) Leaves your face feeling clean without feeling dry and won't cause break outs even with very sensitive skin.
Or a organic eco-stylng gel that is alcohol free and actually holds!
Shop Now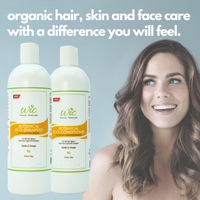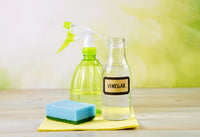 10 Chemicals Found In Every Home and How To Easily Eliminate Them Today
It is amazing that all these toxins and chemicals, and many more that were not listed, are present in products that are designed to protect us. The European government has banned 1,222 times more chemicals than the U.S. Under the Federal Hazardous Substances Act, household cleaners are the only household products for which manufacturers are NOT required to list all ingredients.
Read More...
Check out our most popular products